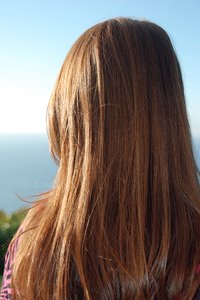 Lather, rinse and repeat is the obvious answer, and it breaks my heart.
I believe that shampoo is the most important part of my hair regime, yet few people appreciate the importance of this. Lather, rinse and repeat barely scratches the surface.
I compare my shampoo to a facial cleanser. There are different skin types that have special needs, just as our hair does.
A cleanser should be balanced to the pH level of your skin and hair. (Between 4.5 and 5.5). You wouldn't use dish detergent on your face. It would be drying and the chemicals would be irritating. The long term result would strip the natural oils that protect our skin from the elements, resulting in premature wrinkles. I determine the needs of my skin type and choose one that will help with any problems that I am having.
The proper shampoo is equally as important to me, but how do you find the right shampoo?
First, identify what your needs are.
Fine texture usually needs volume, and strength. It also tends to have an oily or normal scalp.
Coarse or curly hair needs moisture, as the natural oils from the scalp have a difficulty travelling down the spiral of the curl.
There are different shampoos for colour treated hair. Consider whether you need repair for damaged blonde or protection from fading with reds or brunettes, You can even choose a shampoo that tones yellow tones in blonde hair.
If you have grey or white hair, whether you colour it or not, you can choose an anti-ageing shampoo that improves the condition.
Next I consider the ingredients. The big buzz these days is all about sulfate-free shampoos. Sodium lauryl sulfate is a detergent that creates lots of foam and bubbles. I have been researching about this ingredient and it is hard to find a solid answer about the affects of this chemical. What I have found is that it is suspected of causing cancer and thinning hair. It is the main ingredient in such products like garage cleaners and engine degreasers.
I also know that we can find mild cleansers in nature, derived from coconut, corn and sugar. I can't help but prefer our zero sulfate shampoos because people can feel the difference in the health of the hair. These shampoos also use organic botanicals like rose, peppermint, camomile and shitake mushroom, that smell amazing and target specific needs.
The best way to know if you have the right shampoo is to try it. If you don't see the results you were looking for, you may need to try a different kind. That is why I recommend buying shampoo from your hairdresser as opposed to the drug store. We care about having you feel and look your best, and are happy to replace your shampoo with a type that may better suit you. It is a terrible feeling to invest in a product that you don't like, and can't return. I know I have expensive cosmetics sitting unused in my bathroom because I was disappointed with the results.
If you are curious to try something new, talk to your hairstylist about the options. We use sulfate-free shampoos in the salon everyday with our clients, and can recommend the right type for your hair.